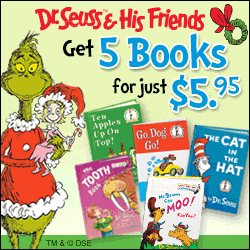 Go HERE to sign up now go score 5 hardcover books and a FREE Wall Calendar all for just $5.95 shipped!!! Go quick offer limited to while supplies last! 
Includes: – The Cat in the Hat, Mr. Brown Can Moo, Ten Apples On Top, Go Dog Go! & The Tooth Book – FREE 2014 Wall Calendar – Free Shipping 
I ordered these for my kids and they LOVE them!!! I have been very satisfied with this service and have nothing but great things to say about the customer service.
Seriously such an amazing deal…you don't just get FREE books you get memories and collectors items that can be passed down through generations!
Think Christmas…you will get 5 books and a calendar all for just $5.95 that's less than $1 a gift!!!
Here is how this works…
Preview upcoming packages Risk free. Cancel anytime.
• No purchase commitment
• High quality, hard covered editions.
• Convenience of home delivery for less than $5 per book.
• 100% Satisfaction Guarantee.
Conveniently control your membership online.
- Adjust your shipping interval
- View account history
Receive 3 new books each month.
Create lasting memories with the same classic stories you loved as a child.
Wacky and wonderful characters will engage and entertain your child.
Note: This offer is a monthly book club. Customers will automatically be charged and sent additional books each month. To manage your account, call 1-800-353-3140 or login to your account online: https://www.earlymoments.com/Login/